Commercial Roofing Experts Serving the Twin Cities
As a leading WBE + MBE roofing contractor exclusively focused on commercial properties, Camacho Contractors brings unmatched expertise and dedication to every project we undertake. With a deep understanding of the unique challenges and requirements of commercial roofing, we are your trusted partner for reliable, high-quality solutions.
A strong and well-maintained roof is crucial to the success and longevity of any commercial building. At Camacho Contractors, we specialize in providing a comprehensive range of roofing services tailored to meet the specific needs of our commercial clients, both public and private. Whether you are in need of installation, repair, maintenance, or evaluation services, our experienced team is here to ensure the optimal performance and protection of your roof.
From single-ply to built-up systems, our close project management and in-house design expertise ensure quality work in every roofing project. Years of commitment to high standards has helped us build a reputation as a quality commercial roofing and sheet metal contractor in the Twin Cities. All work is designed to be finished on time and within budget, insured, performed by skilled union labor, and backed by manufacturer warranty. Our commitment to excellence extends to every aspect of commercial roofing. We offer focused expertise in the following areas:
Reliable + Experienced MN Commercial Roofing Experts
At Camacho Contractors, we are dedicated to delivering exceptional commercial roofing services that not only meet, but exceed your expectations. With our expertise, professionalism, and commitment to quality, we ensure that your commercial property is protected by a durable, reliable, and visually appealing roof.
Don't compromise on the integrity of your commercial roof. Trust Camacho Contractors to handle all your roofing needs, from single-ply and built-up asphalt roofing to architectural sheet metal and large-scale shingle projects. Our team of experienced professionals is ready to provide you with quality installation, repair, and maintenance services.
Invest in the longevity and protection of your commercial property. Choose Camacho Contractors as your trusted partner in commercial roofing solutions. Together, we will ensure that your roof stands strong, withstands the elements, and enhances the overall value and appearance of your business.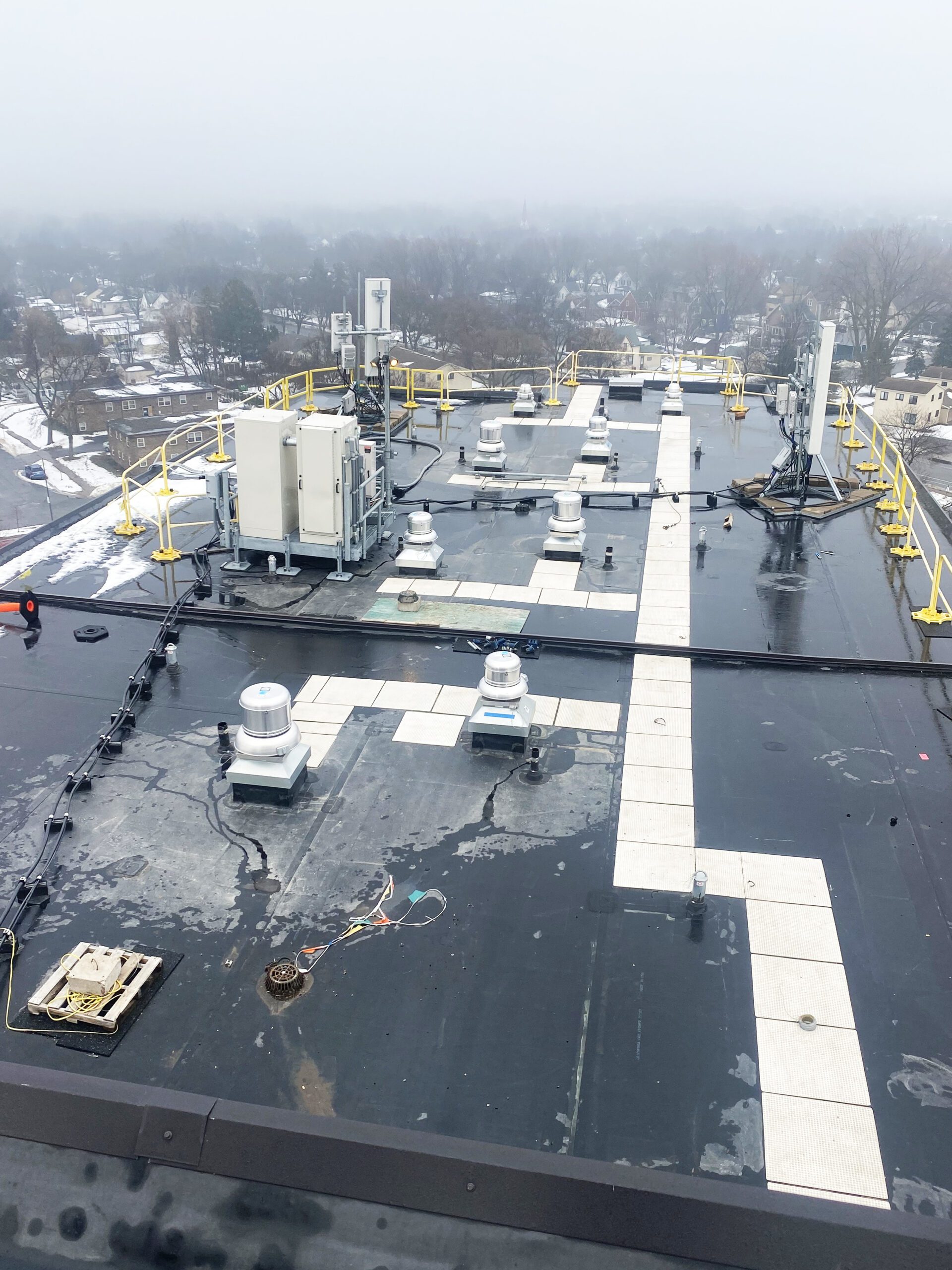 Close
Single-Ply Systems
Camacho Contractors specializes in high-quality single-ply roofing solutions for commercial properties. With a focus on durability, energy efficiency, and sustainability, our team works with various materials such as TPO, PVC, and EPDM to meet the specific needs of each project: ballast, mechanically fastened, or fully adhered. Whether you require new installation, overlay, or a complete re-roof, our professionals deliver precise and efficient services, ensuring a watertight and long-lasting roof. Over 90% of the roofs we install qualify for a 20-year, 25-year, or even a 30-year manufacturer warranty. We also offer comprehensive repair and maintenance options to address any issues as well as extend the lifespan of your roofing system. Trust Camacho Contractors for all your single-ply roofing needs and enjoy the benefits of a reliable and efficient roofing solution for your commercial property.
Ballast – using rock to weigh down the system
Mechanically fastened – using screws to fasten the system
Fully adhered – using adhesives to attach the system
Furthermore, Camacho Contractors has the proficiency and experience to install, repair, and maintain EPDM, TPO, and PVC systems with manufacturer warranties ranging from 10 years up to 30 years. With proper inspection and maintenance, many roofs can surpass their warrantied lifespans. Our skilled professionals ensure proper installation and employ the highest quality materials, resulting in long-lasting and reliable roofing solutions for your commercial property.
Built-Up Roof (BUR) Systems
Our expertise extends to BUR roofing, commonly known as asphalt roofing. This traditional roofing system provides exceptional durability and weather resistance, making it a popular choice for commercial buildings in Minnesota. With our knowledge and skills, we can handle all aspects of built-up roofing, from installation to repairs and maintenance, ensuring that your roof remains in excellent condition. As one of the select roofing contractors with extensive experience in BUR, we have the equipment and knowledge to handle any BUR project.
Large-Scale Shingle Projects
Camacho Contractors is your trusted partner for large-scale shingle projects in the Twin Cities. Our experienced team has the expertise and capabilities to handle commercial properties of all sizes, whether it is a new construction or a renovation project. With careful planning and precise execution, we deliver superior roofing solutions that meet your project's unique needs and specifications. We understand the importance of a well-installed and durable shingle roof in protecting your commercial property, and enhancing its visual appeal. Count on us to provide premium shingle materials and experienced roofing professionals who excel in large-scale installations. Choose Camacho Contractors for your commercial shingle project and enjoy peace of mind knowing that your property is in capable hands.
Camacho Contractors understands the unique challenges that come with large-scale projects, such as coordinating logistics, adhering to timelines, and maintaining high-quality standards. We prioritize effective project management and clear communication to ensure a smooth and successful execution from start to finish.
Architectural Sheet Metal
Camacho Contractors' skilled craftsmen/women blend precision and artistry to design and fabricate custom metal roofing components that not only offer exceptional functionality but also enhance the visual appeal of your commercial property. Architectural sheet metal provides numerous advantages, including versatility, durability, and resistance to wind, impact, and fire. These qualities ensure long-lasting performance, superior structural integrity, and peace of mind for our clients. Choose Camacho Contractors for your architectural sheet metal needs and experience the perfect blend of functionality and aesthetic excellence for your commercial roofing project.
Roof Management Program (RMP)
Camacho Contractors offers thorough roof system evaluations conducted by our knowledgeable roofing experts. Using a systematic approach, we assess your roof's overall condition and also inspect each component of the roof. Our detailed examination allows us to identify any damage, deficiency, degradation, or potential risks that may impact your roof's performance and lifespan. We consider factors such as weathering, wear and tear, improper installation, and maintenance history during the evaluation process. We also inspect vital elements like the drainage system, flashings, and terminations to ensure functionality. With our comprehensive assessment, we provide you with an accurate understanding of your roof's current state. Trust Camacho Contractors for reliable roof system evaluations and make informed decisions regarding maintenance, repairs, or replacements for your roofing needs.